For Precise Suspensions: Dissolving and Dosing Systems from endeco
Using our extensive practical experience, we develop precision-tailored dissolving and dosing systems for the foodstuff, plastics, paper, and chemical industries. Our systems allow you to produce suspensions with an accuracy of up to +/-0.5%.
The required dry materials are removed as needed directly from silos, big bags, or sacks and fed to the dissolving system through suitable conveyor systems
Depending on the liquid quantity and the required dry matter content, the powder is dosed into the agitator tank via a dosing device
Variable density control via solids and liquids dosing
The agitator mixes the dry product with the liquid into a homogeneous solution
The suspension is transported to the appropriate removal points or storage tanks by means of a feed pump
Extensive product database for bulk materials (incl. flowability, product/product and product/wall friction angle etc.), scientific examination of unknown products, if necessary
The systems can easily be supplemented with heating, cooling, and simmering lines and can be designed for batch operation or continuous mode, depending on the requirements.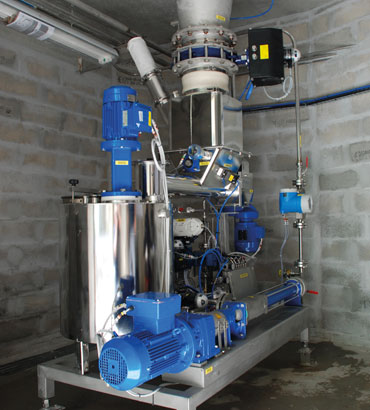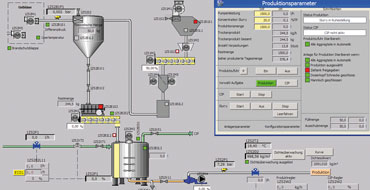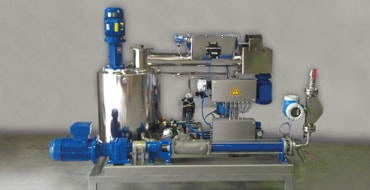 ---
Dosing and dissolving – as needed, fast, and reliable
Your dissolving and dosing system from endeco will render precise results in a short time. It will be designed pursuant to your requirements, environmental conditions, and preferences and seamlessly integrated into your upstream or downstream processes.
Tailored to your needs – designs and options:
Designed according to ATEX requirements in zone 20/21/22
Material S235 JR or stainless steels 304 or 316L
Compliant with GMP, FDA, and EU 1935
Custom surfaces from mill finish to ground and polished
Wear-resistant design possible
With integrated CIP and SIP systems
Explosion-proof design
Manual or fully automated processes via own programs possible
Continuous or discontinuous dosing
Continuous or discontinuous product removal
Gravimetric or volumetric dosage possible
Near-complete residual discharging
Dosing systems or feeds of mixing and screening systems can be easily assembled from standard components
Similar Industry Systems:
Dennis Joesten
(Head of Sales)
Your contact person: Dennis Joesten (Head of Sales)
endeco plant engineering & engineering advantages:
Complete solutions from a single source - systems tailored to your needs to increase efficiency through optimal adjustments, for higher productivity with maximum plant safety
Owner-managed family business guarantees customer proximity through flat corporate hierarchies
Guarantee for long-lasting and future-proof quality with high availability and sustainability - DIN EN ISO 9001 certified
Reliable and fair partnership secures long-lasting business relationships worldwide
Many years of experience in liquid and bulk handling
Service on site by our own assembly teams
Customer proximity and competent advice from our own sales force
Development of innovative and customized solutions
References
Numerous customers have been relying on our services for years. Here is an excerpt from our customer base: