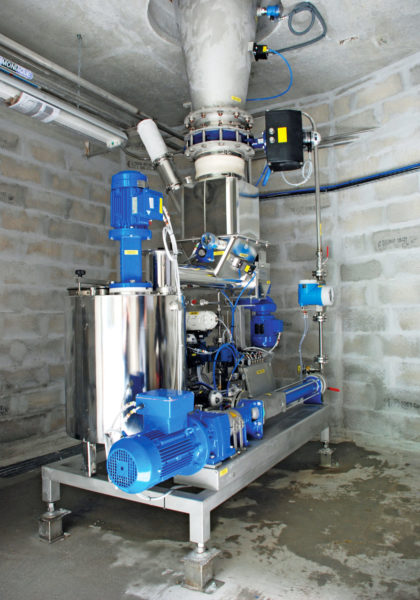 Automation technology & process automation + optimization
Process automation for bulk material and liquid plants is considered the supreme discipline in plant engineering. Handling sensitive products, filigree recipes and complex processes is in the best hands with the experts at endeco. We develop the customized control technology for your bulk material and liquid plants in-house. With this innovative and reliable automation technology, we set the course to ensure that the quality and costs of raw material processing are always right.
Thanks to endeco's precisely tailored and sophisticated process automation, the human factor as a source of costs and errors in the operation of bulk material and liquid plants can be largely eliminated. Instead, a sophisticated control technology significantly reduces the risk of malfunctions and delays, thus ensuring more efficient production processes. A control technology where everything simply fits from the first concept to the practical implementation. An additional advantage is also the increase in energy efficiency.
Industrial sectors and raw materials:
Plants for food
(spices, baking agents, baking mixes, diet food, beverages, sugar, vitamins, ready meals, flavours, starch products, gluten, cocoa, dairy products
flours)
Plants for dairy products
(Whole milk powder, skimmed milk powder, fat powder, lactose, caseinates, buttermilk powder, whey powder, permeate powder, baby food, coffee whitener, milk proteins)
Plants for starch/protein
(potato starch, pea starch, wheat starch, maize starch, tapioca starch, dextrins, maltose, protein, maltodextrose, protein isolates, fibres, animal feed)
Plants for chemistry
(paints and varnishes, toner, paper, fertilizers, crop protection, insulating material, catalysts, battery masses, non-woven, cleaning agents, detergents)
Plants for plastics
(PVC-Powder, LDPE, HDPE, Compounds, Granulate, POM, Additive, Masterbatch, Dryblend)
Plants for pharmacy
(fillers, flow enhancers, starches, milk powder, vitamins, active ingredients)
No matter whether a bulk material and liquid plant is to be redesigned or modernized, or if a product or assortment change makes it necessary to adapt the automation system, we develop the control technology that fits exactly: maintenance- and user-friendly, economical and future-proof. This starts with the first drafts for the new automation system, continues with the selection of materials and equipment and is not completed during later operation, as endeco is also able to adapt and further improve running silo and industrial plants again and again.
Because when it comes to automation, nothing should be left to chance. We at endeco can draw on several decades of experience and the knowledge gained from more than 1,000 successful projects; a priceless know-how that is second to none for the process control of bulk material and liquid plants. Thus we have long since left the status of a "hidden champion" behind us. With automation solutions in plant design from one source, endeco stands for a premium technology that makes premium products possible in the first place.
Our customers have a highly competent partner for technology, material and processes who knows exactly what is important for the industrial automation of bulk material and liquid plants. This applies to consulting projects as well as to the realization of complex turn-key plants. These are the best prerequisites for setting the course for "Industry 4.0" in production with the silo plants and industrial plant systems from endeco.
Dennis Joesten
(Head of Sales)
Your contact person: Dennis Joesten (Head of Sales)
endeco plant engineering & engineering advantages:
Complete solutions from a single source - systems tailored to your needs to increase efficiency through optimal adjustments, for higher productivity with maximum plant safety
Owner-managed family business guarantees customer proximity through flat corporate hierarchies
Guarantee for long-lasting and future-proof quality with high availability and sustainability - DIN EN ISO 9001 certified
Reliable and fair partnership secures long-lasting business relationships worldwide
Many years of experience in liquid and bulk handling
Service on site by our own assembly teams
Customer proximity and competent advice from our own sales force
Development of innovative and customized solutions
References
Numerous customers have been relying on our services for years. Here is an excerpt from our customer base: