Pneumatic conveying, conveying systems, conveyor systems and conveying technology
Pneumatic conveying and conveying systems in use
Efficient transport of bulk materials by dense or thin stream conveying
Pneumatic conveying as well as modern pneumatic conveying technology are nowadays indispensable for the transport of bulk materials. Time is money and many industrial plants often lose valuable time when loading and unloading vehicles, ships, airplanes or when transferring bulk materials within the production process and further processing. While in the beginning only foodstuffs such as grain were conveyed pneumatically, other branches of industry have now also discovered the many advantages of pneumatic conveying systems for themselves. Hygienic conveying technology has become indispensable in almost all industries such as food, starch/protein, cosmetics, chemicals and pharmaceuticals as well as the plastics industry. Endeco as a plant manufacturer offers all services from A-Z in engineering, consulting, optimization, production and assembly of pneumatic systems and industrial plants using efficient pneumatics and high-quality drives and controls.
A pneumatic system with the right conveyor technology enables the flexible conveying of a wide variety of bulk materials and is used, for example, in the food, chemical and pharmaceutical industries as well as for economical solutions and construction materials.
Pneumatic conveying systems are particularly suitable for:
Smallest bulk material in dust form like flour or cement
Larger particles like granules or pellets
piece goods via pneumatic tube conveyor systems
Mixed conveyed material
The pneumatic conveying (bulk material conveying) is carried out by means of overpressure or vacuum and is specially adapted to your individual requirements. The product feed can be realized among other things via injectors, blow-through sluices, feed shoes or suction troughs. Subsequently, the bulk material is blown through the pipeline with overpressure or sucked in by vacuum. This cost-effective and reliable transport method allows the material to be transported over very long horizontal and vertical distances before it is separated at the end of the conveying pipeline. Thus, industrial plants become much more efficient and also the filling distributed over several halls or parts of buildings is possible without any problems.
Pneumatic dense phase conveying
Pneumatic dense phase conveying is the simplest and most cost-effective solution for pneumatic conveying. It is suitable for many different dry bulk materials and can distribute materials to different transport points very gently and without segregation. Even difficult bulk materials reach their destination over long distances without damage:
Clocked pressure conveying system
Transport distances up to 500 m and more possible
Product-friendly and segregation-free conveying
Highly economical: low energy, maintenance and cleaning costs
Automatic blowing out of blockages
Weighing in batches possible
Existing compressed air network can be used
Easy, fast cleaning
Your requirements for dense phase conveying are decisive – design and options:
Design according to ATEX requirements in zone 20/21/22
Material S235 JR or stainless steel 304 or 316L
GMP, FDA and EU 1935 compliant
Stationary or mobile
High-performance versions for continuous conveying
Integrated sampler and metal separator
Hygienic design for food-compliant loading of silo trucks
Plant design incl. CE-marking
Special sizes
Pneumatic thin-flow conveying
Pneumatic thin-flow conveying is particularly suitable for dry, free-flowing bulk materials and is very inexpensive to purchase and operate. It is particularly suitable for hygienic transport and can be easily extended at any time by adding further feed points. Ideal for dry, free-flowing bulk materials.
According to requirements as suction or pressure pneumatics
Transport distances up to 200 m or more
conveying capacity 100 – 20.000 kg/hour
Very favorable in acquisition and operation
Conveying air in hygienic quality
Without dust leakage (with vacuum conveying)
Product feed via discharge or blow-through sluice or injector
Easily extendable by further feeding points (e.g. silo or big bag emptying station)
Screening machine can be integrated directly into the conveying line
Separator can be designed as multi-component scale (for suction and pressure operation)
Easy and quick to clean
Your need for thin-flow conveying is decisive – designs and options:
Design according to ATEX requirements in zone 20/21/22
Material S235 JR or stainless steel 304 or 316L
GMP, FDA and EU 1935 compliant
Sampler and metal separator can be integrated
Plant design incl. CE-marking
Pneumatic plants and conveying systems from one source – endeco Engineering develops the appropriate pneumatic conveying technology for your product
We offer you pneumatic conveying systems individually adapted to your needs. We have the right solution for every wish and ensure that your pneumatic system can operate as efficiently as possible. We are at your side right from the start and provide you with detailed advice from system planning to system construction. Of course, we also support you in the optimization process and offer the appropriate service at any time to make your pneumatic conveying system as economical as possible with the efficient conveying technology.
A distinction is made between these two types of pneumatic conveying:
Pressure conveyor systems: Conveying air and conveyed material flow through the overpressure in the capacities into the separator, which separates the conveying air from the conveyed material again.
Suction conveying systems: A vacuum pump creates a vacuum which sucks the material to be conveyed and transports it to the separator.
Let our consultant advise you personally and without obligation on all aspects of efficient conveyor plants and systems.
Please also note our practical big-bag handling for bulk goods of all kinds.
Dennis Joesten
(Head of Sales)
Your contact person: Dennis Joesten (Head of Sales)
endeco plant engineering & engineering advantages:
Complete solutions from a single source - systems tailored to your needs to increase efficiency through optimal adjustments, for higher productivity with maximum plant safety
Owner-managed family business guarantees customer proximity through flat corporate hierarchies
Guarantee for long-lasting and future-proof quality with high availability and sustainability - DIN EN ISO 9001 certified
Reliable and fair partnership secures long-lasting business relationships worldwide
Many years of experience in liquid and bulk handling
Service on site by our own assembly teams
Customer proximity and competent advice from our own sales force
Development of innovative and customized solutions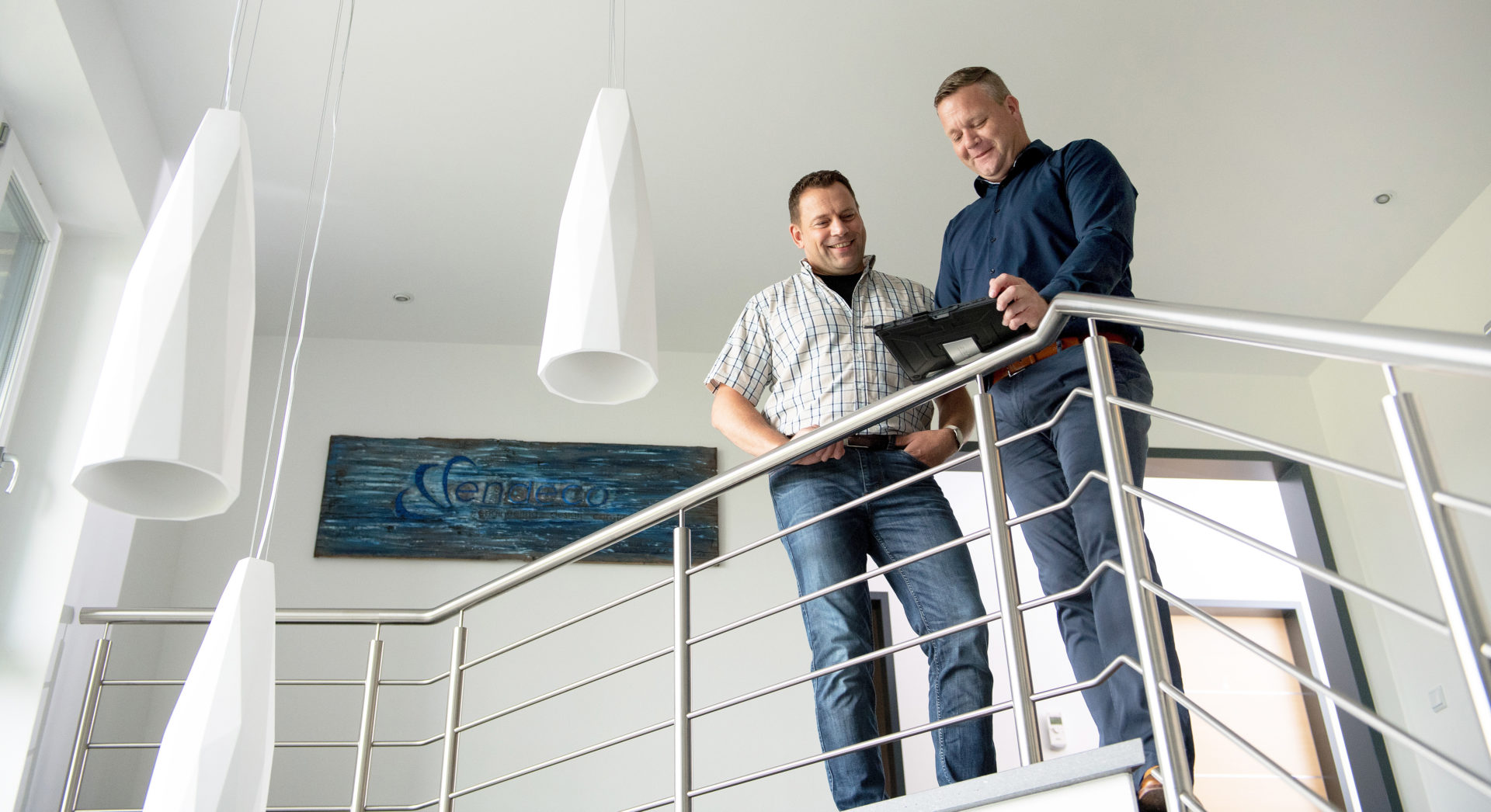 This is why you should rely on pneumatic conveying and conveying systems
Most granulates, dust-like products and other bulk materials can only be transported really fast and effectively with pneumatic conveying. If, for example, one would continue to rely on transport with conveyor belts, one would have an enormous time delay, problems with the efficient implementation for the production process as well as losses due to dust emission into the ambient air.
Especially when time and the degree of purity of the products (product purity) play a role, pneumatic conveying is the best solution. It guarantees a fast, clean and residue-free conveying of bulk materials. If mixed materials are transported, there is no mixing with particles of other grain sizes. In addition, there is no friction in pneumatic conveying, which means that individual particles are not damaged during transport and the generation of static electricity is prevented. The space requirement is also very small with a pneumatic system and offers a lot of freedom in design.
All our conveying systems are oil-free and thus guarantee a high-purity process technology. Already during the planning and development phase, we make sure that the latest safety standards for the purity of the compressed and conveying air are observed.  These include: ISO 8573-1: 2010 Part 1 (Contaminants and purity classes), ISO 8573-2: 2007 Part 2 (Test methods for aerosol oil content) und ISO 8573-5: 2001 Part 5 (Test methods for oil vapor and organic solvent content).
Our services in industrial plant construction