Plant engineering, process engineering, automation technology and conveyor technology
More efficiency, better processes and more productive conveying through modern and individual plant technology for industrial plants
As the market leader in plant construction in Germany, especially for the bulk material industry, we at endeco specialize primarily in large plants, plant construction industry and the associated plant engineering, conveyor technology, energy technology, electrical engineering, production engineering, measurement technology and automation, because this is the be-all and end-all in plant planning and industrial plant construction in order to be able to guarantee smooth, efficient operation. It is a matter of course for us to hand over your plant to you on a turnkey basis. And, of course, our services include not only machine and plant planning but also engineering, process technology and plant engineering, production and assembly of your industrial plant as well as special machine construction and apparatus engineering.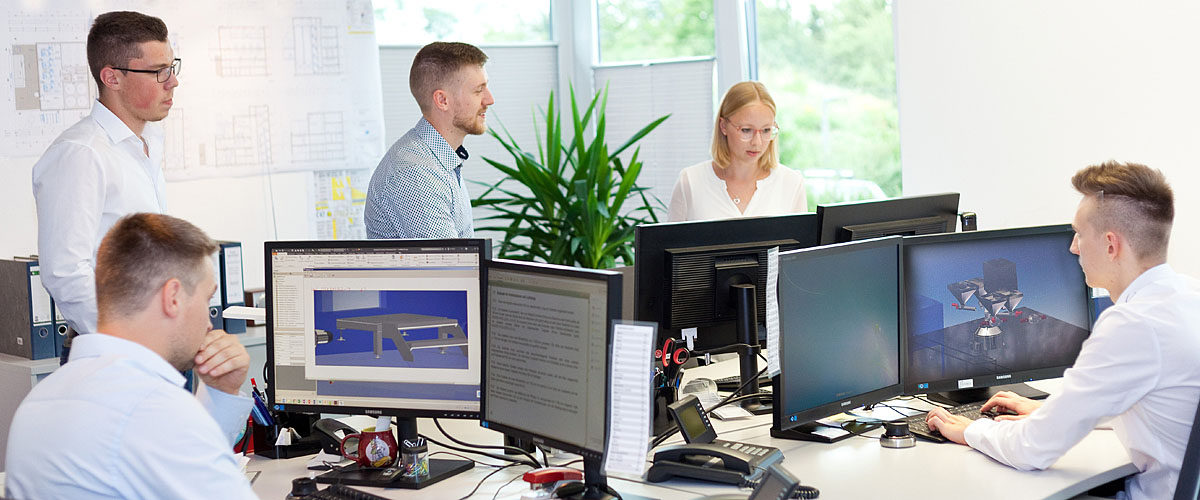 Vorteile auf einen Blick:
 over 35 years of experience
Everything from one source
turnkey plants possible
extensive consultation & support
customized industrial plants
own engineers and fitters
Dennis Joesten
(Head of Sales)
Your contact person: Dennis Joesten (Head of Sales)
endeco plant engineering & engineering advantages:
Complete solutions from a single source - systems tailored to your needs to increase efficiency through optimal adjustments, for higher productivity with maximum plant safety
Owner-managed family business guarantees customer proximity through flat corporate hierarchies
Guarantee for long-lasting and future-proof quality with high availability and sustainability - DIN EN ISO 9001 certified
Reliable and fair partnership secures long-lasting business relationships worldwide
Many years of experience in liquid and bulk handling
Service on site by our own assembly teams
Customer proximity and competent advice from our own sales force
Development of innovative and customized solutions
Plant engineering / process engineering – What does plant engineering mean?
In principle, process engineering and plant technology can be described as a series of different apparatus and machines that turn raw materials into products by conveying different materials from one machine to another. Of course, this also requires the appropriate conveyor technology and a source of energy to keep the plant running. Measurement technology, control technology and regulation technology monitor the result at every step of the process. Process engineering is used particularly in chemical plants and in the food industry or building material industry and pharmacy.
What tasks can we at endeco implement for your plant using the plant and process engineering?
First of all, the individual processing steps are planned. This is followed by the development of the required equipment and machines. General mechanical engineering and apparatus engineering is carried out by mechanical engineering companies.
Finally, special solutions for your needs are found in special machine construction. Now it must be determined which method is best suited for mass transfer. In many cases, pipeline construction is used here. Of course, this depends on the type of material to be transported. Bulk and flowing materials have different properties than gases and therefore place different demands on the pipeline system.
Therefore, pipeline and plant construction almost always go hand in hand and pneumatic conveying is also of great importance. Solid materials can be conveyed e.g. by conveyor belts or similar. In mechanical and plant engineering, therefore, special importance is attached to container construction, fixture construction and silo technology, because the raw materials are removed from these containers or the end product is subsequently stored.
Another important point is of course the energy supply, which must be guaranteed at all times. Afterwards it has to be determined which measurement technology, surface technology and, if necessary, bioprocess engineering or power plant technology, regulation and control technology is required to ensure that the plant can run as efficiently and cost-effectively as possible.
The plant engineer then takes care to optimize all processes once again and to take precautions to exclude malfunctions. By means of innovative plant engineering and apparatus technology, we at endeco ensure that your plant runs profitably and cost-effectively. Of course, we are also available to you after completion of your plant in all matters concerning maintenance and service.
And since we know how important conveyor technology, automation technology and plant engineering is when it comes to building a perfectly functioning, efficient plant, we have specialized in this area. So you can be sure that we will always find the best possible solution for your plant. And thanks to our sister companies endeco (plant construction, consulting and engineering), indu-tech (stainless steel processing, piping, fixture construction, individual parts manufacturing, production, plant assembly and maintenance) and promatic (automation), we are also able to offer a complete turnkey solution from a single source.